Top Nose Surgeon
Dr. Kevin Brenner
It is very discouraging to undergo nose reshaping surgery only to find that the final result falls far short of expectations. People in this position are understandably hesitant to undergo surgery a second time and may be despondent of ever having the result they had hoped for. Dr. Kevin Brenner is a prominent revision rhinoplasty surgeon in Beverly Hills. In addition to over 7 years of plastic surgery training, he has completed uniquely specialized training in nose reconstruction techniques.
He completely understands the frustration felt by revision rhinoplasty patients and realizes that trust may need to be rebuilt. Revision nose surgery is considered by most plastic surgeons as the most challenging of all cosmetic procedures. Patients can need revision surgery even when the original procedure was performed by a skilled surgeon. The healing process is unpredictable. In some patients, erratic healing will result in cosmetic imperfections or functional
Secondary Rhinoplasty
Secondary rhinoplasty is the term used for nasal corrective surgery performed on a patient who has had a previous nasal operation. Revision nose surgery may have already been attempted several times. This makes the revision process far more complex as surgery causes trauma each time, weakening the internal structure.
Some patients only require a very small correction in revision rhinoplasty. After healing it may be necessary to remove a small amount of residual bone or cartilage. There may be a small ridge that formed during healing or some scarring that must be revised. In these cases the revision surgery is usually done by the original surgeon.
Patients with unsatisfactory results seek a second opinion for several reasons. Usually they have lost confidence in their original surgeon and want to seek the opinion of a more qualified rhinoplasty surgeon.
Second opinions are sought for several reasons:
A persistent defect which was never addressed during primary rhinoplasty
A defect that has formed as a result of primary surgery such as a drooping tip
Depressions in the nose or asymmetric appearance
Displaced implants or cartilage grafts
Healing variations that have caused cosmetic or functional defects
Collapse of the nasal airway from primary surgery causing breathing difficulties
Unsightly scarring
Trauma to the nose after primary surgery
Advanced Corrective Nose Surgery Procedures
Dr. Brenner has trained on advanced revision rhinoplasty procedures such as rib and ear cartilage grafting. Rebuilding the nasal structure may require rib cartilage grafting if there is substantial damage and missing bone or cartilage. Often patients who have had multiple revisions have very little left to work with.
Rib cartilage grafts are used to repair:
Over aggressive removal of tissue during the original nose surgery
Severe nasal trauma with septal fractures
Cocaine abuse causing loss of septal tissue and septal perforation
Continuing repair of congenital defects (defects present at birth)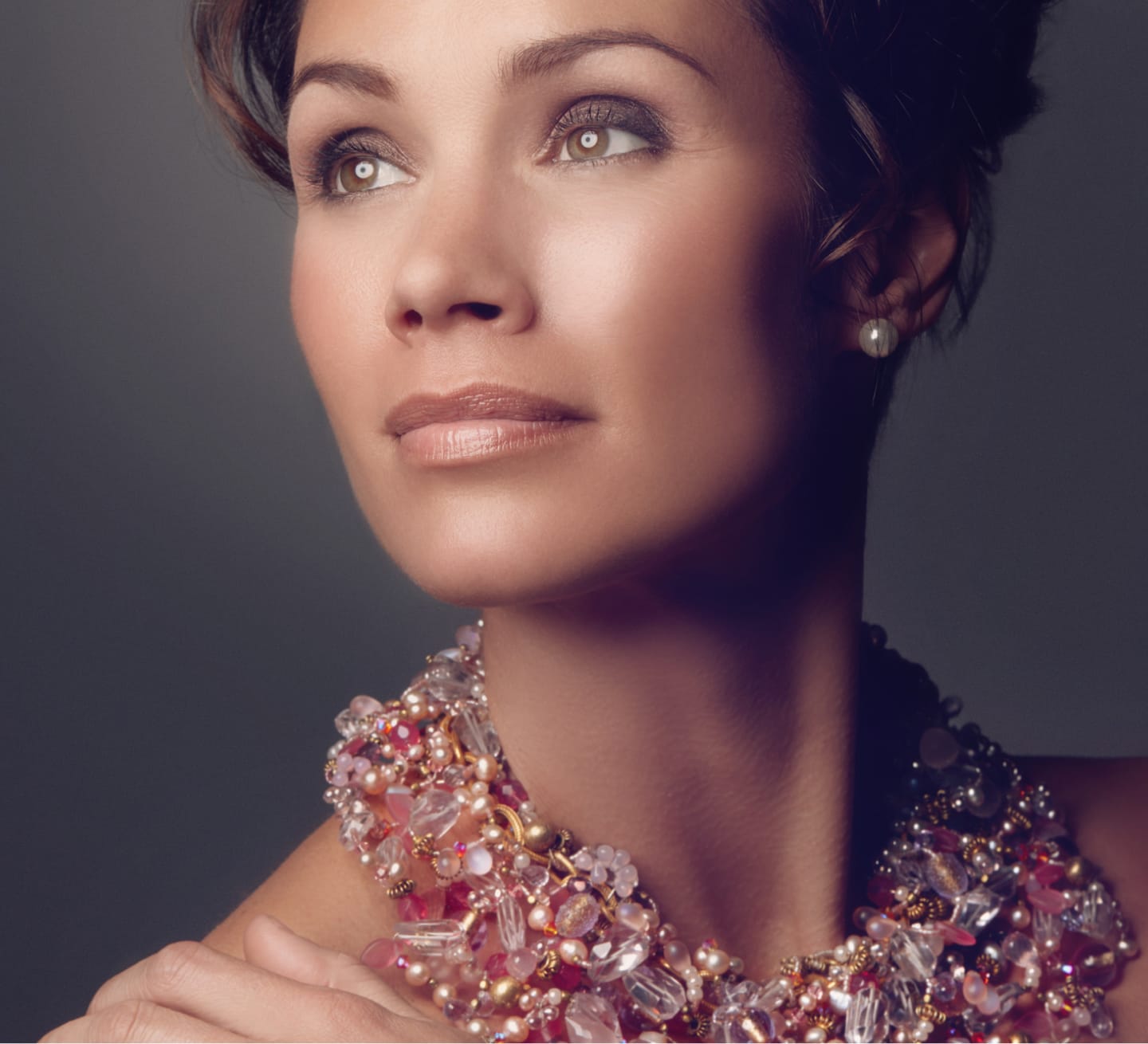 Revision rhinoplasty at
Beverly Hills
RoxSan Surgical Center
Revision rhinoplasty is among the most complex and demanding procedures in plastic surgery. As the nose is a complex three dimensional structure, the skill of the surgeon must be equal to the challenge. In some cases it may take multiple surgeries to restore function and repair defects in appearance.
The first step for your rhinoplasty revision in Beverly Hills is the examination and evaluation of the previous revision rhinoplasty surgery and the defects that must be corrected. This is followed by an in-depth conversation with the patient to discuss aesthetic goals, the challenges to be overcome, the method of surgery and whether grafts will be needed. Dr. Brenner recommends that the primary nose job be at least 6 months old before revision surgery is attempted.
Surgery is performed at Dr. Brenner's state-of-the-art surgical facility in Beverly Hills on an outpatient basis. This facility is fully accredited by the AAAASF and the Centers for Medicare Services (CMS) and meets all guidelines.
Dr. Brenner prefers the open rhinoplasty method over the closed method in most revision cases as it provides greater access to the structures that need revision. The small scar that results from the open method is difficult to see and fades over time. There may be more swelling when using the open technique, but Dr. Brenner finds the final results are considerably better using this method. Very simple revision rhinoplasty may be done using the closed technique which avoids an external scar.
Contact Dr. Brenner
There is no need to live with disappointing results from corrective nose surgery. Beverly Hills has only a few plastic surgeons with as much specialized training and experience as Dr. Brenner has. He has obtained this through countless rhinoplasty and revision nose surgery procedures. Contact his office for an initial consultation and learn what your options are.
The Art of Secondary Nasal Surgery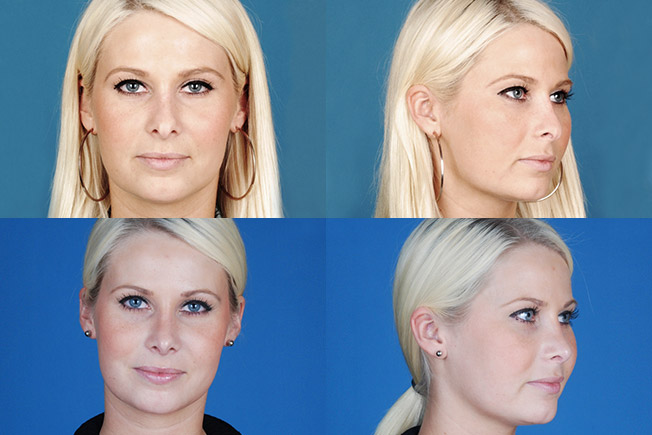 The patient below previously underwent closed rhinoplasty several years prior to arriving at my office for a revision rhinoplasty (corrective nasal surgery). Specifically, this patient had the following complaints:
She felt her nasal tip was unattractive. She did not like the visibility of her nasal tip cartilages through her skin.
There was a retraction of the nostril rims and this put attention on how people looked at her. She did not like the appearance and position of her nostrils and felt that others could see up her nose in photographs.
There was a noticeable inability to breath through her nose. Since her last operation she had a history of progressive nasal airway obstruction. This patient is quite athletic and noted an inability to move air through her nose in many circumstances, particularly during exercise.
Here is how Dr. Brenner addressed the patient's condition:
Open approach, revision rhinoplasty. The correction of the internal airway and complex nasal tip reconstruction required an open approach using a transcolumellar incision.
Correction of alar malposition & nasal tip reconstruction. The orientation of the nasal tip cartilages was incorrect and resulted in a very unnatural appearance of the tip. Further, the cartilages had been asymmetrically trimmed and actually over-reduced during the primary operation. Reconstruction then required alar extension grafts that were made from septal cartilage. The native weakness of the left alar required placement of a small PDS rhinoplasty plate.
Correction of alar retraction. The nostril rims were lowered by placement of composite ear cartilage grafts on both sides.
Correction of tip position. The nasal tip lacked support and its orientation had an unnatural appearance. This was corrected with placement of an angled columellar strut between the medial crura (tip cartilages).
Correction of nasal airway obstruction. The patient had internal valve collapse as a result of her primary operation. This was corrected by reconstructing the middle vault with placement of spreader grafts.
Correction of dorsal inclination and irregularities. The patient's bridge was lowered and then the visible and palpable bony irregularity was removed.
Correction of nasal skin scarring. The patient had an incredibly thin skin envelope that was scarred down to the underlying bones. This was corrected by placing a lining graft along the nasal bridge of deep temporal fascia.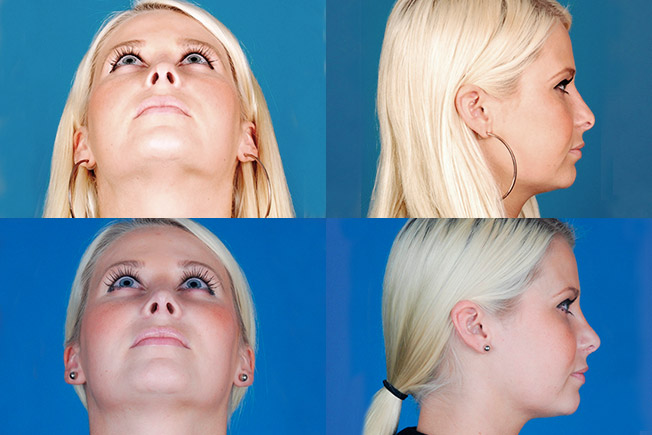 If you are interested in corrective nose surgery in Beverly Hills, call or email today to schedule a consultation with Dr. Brenner. He has helped countless patients by fixing previous rhinoplasty surgeries that weren't as good as the patients desired, or that resulted in some sort of complication.
*Before and after photos are of an actual patient of Dr. Brenner.
Learn More About
Dr. Brenner
Renowned Beverly Hills Plastic Surgeon
Board-certified plastic and reconstructive surgeon
Board-certified general surgeon
Learn More